I Wonder… What if I…?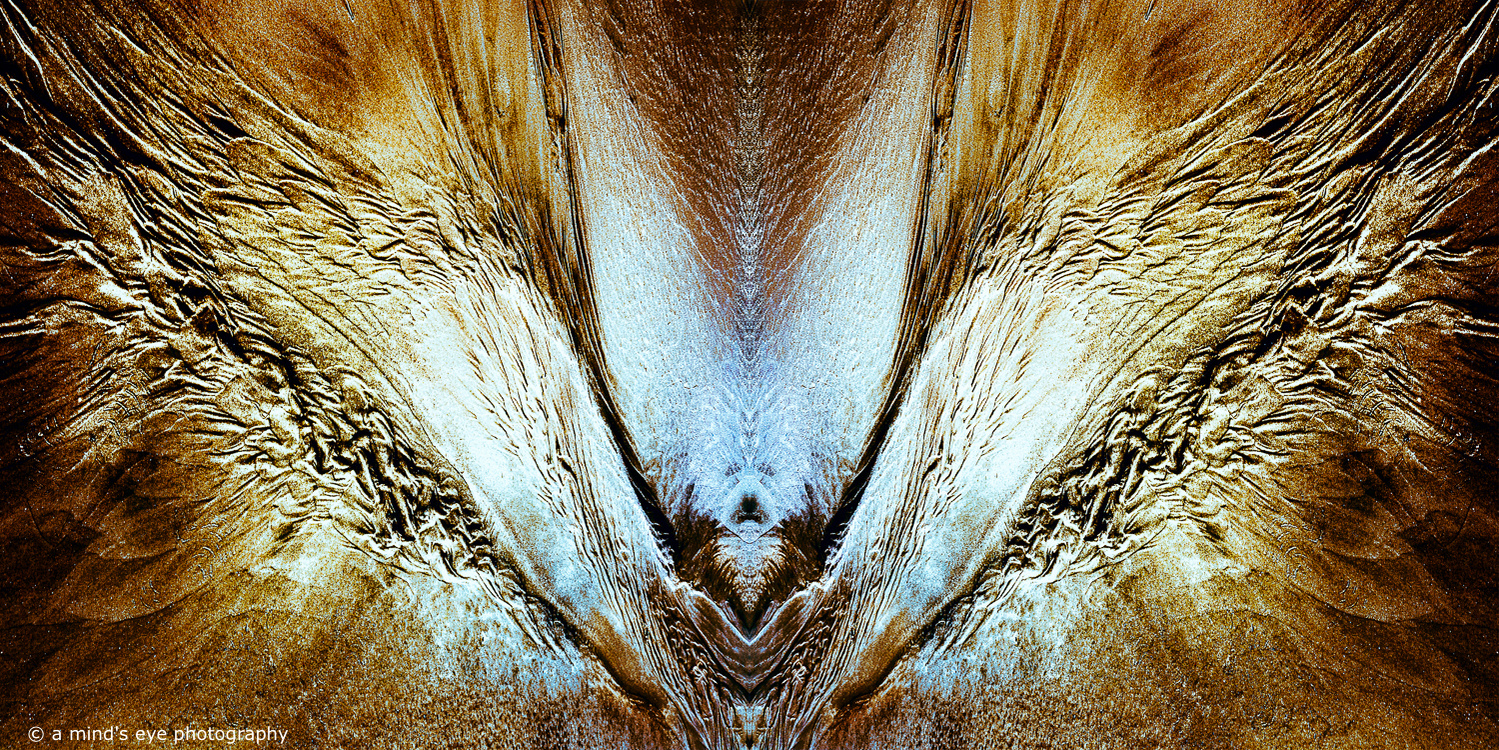 In 2012, my wife and I spent a week visiting my sister on Hilton Head Island. Each morning, after breakfast, while my sister and my wife wandered along the hard sand beach, I'd slowly stroll behind them exploring at the sand patterns left by the receding tide and the emptying tide pools. As the tide slipped back from whence it came, it etched intricate patterns in the hard-packed sand. The sun, low on the horizon, skimmed across the sand revealing the tide's intricate etchings. Every so often, I'd pause, point my camera between my feet, compose an image and press the shutter.
On the first morning, my sister aware I was no longer with them, asked my wife, "What's he doing?" My wife replied, "Oh just ignore him. He's found some that caught his eye and he's taking pictures. He's in his own world at times." My sister said, "Well then, we'll keeping walking and to hell with him then," as she smiled broadly.
As I looked at the sand patterns, I'd see things in them. Details that might reveal something or other that may be interesting once processed. Below is an example of one such image. Really, not much to look at, is it?
No two patterns were the same. Some were similar, but different in detail, depth, length, width and appearance. One morning, I pushed my foot into the edge of a small stream and it engulfed my toes almost instantly. My foot sank into the soft, wet sand as the water swirled around. I waited a few seconds and then snatched back my foot. It left a deep impression in sand, which quickly filled with salt water. As the water rose above my foot's impression, it rolled over the top. Within minutes most of my foot print was gone, but there was still a slight depression. As the water swirled, new sand patterns slowly appeared and then vanished as the water drained away. I repeated the process a few more times, each time studying how fast the depression emptied, what route the water took and how the sun's rays illuminated the slowly revealed patterns.
I repeated the process one more time, only this time I focused my camera between my feet and started capturing images of the flowing water, the shifting sand, the texture revealed by the sun's light and the intricate every changing, ever shifting patterns.
At the time, I thought they'd make some interesting B&W images and maybe a few prints. So as the days drifted by, I continued my morning walks and continued making sand pattern images.
Upon arriving home, I imported all the images into Lightroom (LR). I left them for a few weeks as I got busy with earning my living. Eventually, I circled back and began processing the images in B&W just as I'd visualised. I even made a couple of 13x17 inch prints. I applied warm toned cast to some images. But as I studied the results I was disappointed. The results never matched my original emotional reactions, my original intent was more in my mind's eye than in the images. Viewing the images in colour or B&W on the computer screen, I had no reaction. I guess they were only pale, boring photos of boring sand, after all.
Normally, I delete unsuccessful images from my external hard drive, but for some reason, I kept over 230 of the sand images.
Mexico 2017
In 2017, I was in Mexico for my son's wedding. My wife and I were there for a week, but the Big Day wasn't until the second last day of our stay. So I had plenty of time to myself and, of course, I brought my camera. I started exploring the resort. At first, I just walked around the resort looking, not for anything in particular, but I wanted to let my brain take all that it could. I needed to look, to see, to react emotionally, to listen to that inner part of me that whispers, "Hey look over here, I like how that feels. What do you feel."
One morning, I walked out of our room onto the balcony and I froze. My mind's eye and my eyes were in sync - the frowns of a large palm tree moved ever so slightly in the breeze and I smiled. I'd walked past this same spot three or four times for the first two days. Why had I not seen this before? I studied the sensuous curves of the frowns's yellow stem as it curved toward me as if it wanted to reach out and touch me. I felt very quiet and still inside. I could see the framing, the composition and the right angle even before I raised the camera to my eye. I looked through the viewfinder for a moment and then pulled the camera back for a second. I switched to live view and used the camera's LCD screen to compose the image. I sensed this was the right way to capture what I felt, what I heard what I saw. Naturally moving first right, then left, then lower, each time pressing the shutter release when it felt right, I made about a dozen images. And I felt I had made something special.
People ask me why I do this, why do I take pictures. First of all I don't "take pictures", I make them and I do it because the way I felt, my intentions in sync with my spirit, as a calmness rose from deep within - there's no other thing I do that gives me such peace and fulfilment. Below is one of the images I made that day.
Once I returned home, I selected the above image. I remembered composing that specific image on my camera's LCD screen. In the Lightroom Develop module. I didn't have to think, I knew what needed to be done, I knew how the final image would look, it was simply a matter of making the adjustments that I had seen the day I made the image. When completed, all the feelings, emotions and sensibilities returned and I quietly smiled to myself.
The image below is what I saw on my screen.
Weeks later, while processing other images from Mexico, I returned to my palm frown. And then, without thinking I created a second copy of the processed image. As I looked at the two images, side by side, I asked myself, "What if I …?" And I did; I flipped the second image horizontally, creating a mirror reflection of the first photo.
I had never done that before, and I'm not sure where the inspiration came from, but the result had much more potential, much more depth, much more motion that it became more that the sum of its parts. Without knowing it, I was open to hear what the two photos had to say to me, Together they became more interesting, more creative, more impactful - a more complete photograph. That is why I make what I make!

Working in an other image processing application - Photoshop - I produce the single photo you see above.
So what does this image have to do with the very first image in this post you ask? Well, that's a subject for different post.